Översikt
Learn directly from professionals at law firms and companies and gain insight into the inner workings of businesses in China.
You'll do legal case studies, visit courts, and receive business assignments.
You will be based in Shanghai with teenagers your age and Projects Abroad staff will be there to supervise and guide you.
Det här är ett projekt för dig som är 15-18 år
Is a Law and Business internship in China for teenagers right for me?
This internship is perfect for adventurous teenagers interested in adding professional legal and business work experience to their CVs. In the process, you'll also experience living and working in a rapidly developing country, and meet people your age from around the world.
If you're thinking about studying law or business, this internship is a wonderful opportunity to explore what they're like in practice. Having this kind of work experience on your CV will set your application apart and give you interesting things to talk about in interviews.
You don't need any qualifications or experience to join. We'll teach you everything you need to know, and you'll have all the support and guidance you require. All you need to bring with you is a positive attitude and a hunger to learn!
This High School Special runs for two weeks over fixed dates in the summer. We offer extra staff support, so you'll be safe and have plenty of guidance along the way. When you're not working, we've organised social and cultural activities for your group to keep you busy. You'll also go on a weekend trip together with our staff.
What will I do on a Law and Business internship in China for high school students?
You'll spend two weeks in Shanghai with teenagers your age, working at local law firms and businesses. These are some of the things you will do:
Meet and shadow lawyers and business professionals
Receive presentations and assignments
Explore Shanghai with interns from all over the world
On a Law and Business internship in China for high school students, your work will focus on the following areas:
Meet and shadow lawyers and business professionals
You'll learn from and shadow highly skilled lawyers and business professionals. They'll share personal accounts and tips, which can help you decide if this is a career you want to pursue. They'll also answer your questions, so we recommend taking notes so you can remember everything you learn from them!
Receive presentations and assignments
You will receive interesting and informative presentations from people in the industry. These are designed to give you a broad overview of and a deeper insight into legal and business practices in China. You'll focus on topics like commercial and corporate law.
You will also be given a variety of tasks to complete. These include:
Putting together case studies
Proofreading documents
Making comparisons between the Chinese and other legal systems
Explore Shanghai with interns from all over the world
Our staff have a fun sightseeing trips organised for you and the other teenagers. You'll visit the east Nanjing road shopping street, Yuyuan Garden and Chenghuang temple. You'll also spend time learning a few Chinese phrases, making dumplings and practicing your calligraphy. Projects Abroad staff will make sure you are never alone during this trip, and during the social and cultural activities we organise during the week.
Where in China will I be working?
Shanghai
You'll work in Shanghai, which is one of the biggest cities in China and the international hub for economic and financial development. When you see the skyscrapers that seem to have no end and the neon city skyline that illuminates the night sky, the vastness of Shanghai will really sink in. It can be exciting to see the constant bustle of activity as people move through the street at all hours. You'll see people on their way to work, bartering at the markets or enjoying a meal at one of the many Chinese side street cafes.
While you aren't taking in the wonder of Shanghai, you'll spend one week at a law firm, and one week in a business placement. We give you the chance to explore sectors like:
Consulting
Finance
Education
Technology
Marketing
Sales
IT
PR
You will live with other teenagers and Projects Abroad staff at a local hostel.
Aims and impact of this Law and Business internship in China
The aim of this internship is to give you the opportunity to gain practical work experience in law and business. This is a different and exciting way to boost your CV, and it will also help you develop your personal skills. You'll improve your communication, and show that you are adaptable.
We'll give you a deeper insight into the Chinese legal system, focusing on commercial and corporate law. You'll work at companies, seeing first-hand what daily life is like for a business professional.
Join us and gain invaluable legal and business work experience, as you complete your internship in China.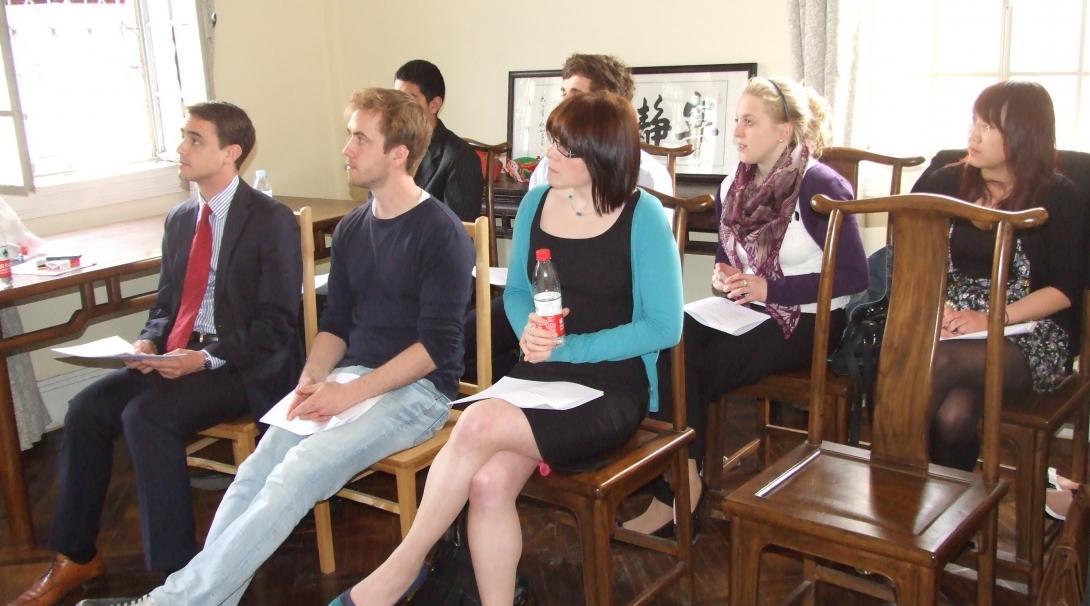 Vi mäter resultatet av vårt arbete varje år
Varje år deltar tusentals ungdomsvolontärer på våra projekt runt om i världen. Under deras tid utomlands bidrar de till att göra en långsiktig positiv skillnad i de samhällen där de arbetar. För att visa vilket resultat deras hårda arbete har, sammanställer vi varje år en rapport som heter High School Specials Impact repor.
För mer information om den insats våra ungdomsvolontär gjort under året, läs vår senaste rapport.
Mat och boende
Du kommer dela boende med andra Projects Abroad volontärer och praktikanter under din tid i Shanghai. Det här är ett fantastiskt sätt att lära känna varandra, dela era upplevelser och utforska omgivningarna tillsammans.
Vi försöker alltid placera våra ungdomsvolontärer så att de delar rum med en annan Projects Abroad volontär eller praktikant, av samma ålder och kön. Ditt rum kommer vara enkelt men bekvämt, rent och säkert.
Din projektavgift inkluderar tre måltider om dagen.
Läs mer om våra boenden.
Säkerhet och personalstöd
Din säkerhet är vår första prioritet. Vi har många processer och system på plats för att se till att du som ungdomsvolontär har all extra hjälp och support som du behöver. Vår egen Projects Abroad personal finns alltid med dig och de andra ungdomsvolontärerna, oavsett tid på dygnet eller dag i veckan. De ser till att du trivs i ditt boende och känner dig hemma på din projektplacering. Om du skulle stöta på något problem, finns vår personal alltid där för att hjälpa dig.
Läs mer om support och säkerhet.
Not quite what you're looking for?
Take a look at the following pages where you'll find collections of similar projects:
Våra samarbetsorganisationer